Slow Feeder™ Dog Toy
HURRY! ONLY 21 LEFT IN STOCK!
If your dog is a food gobbler, this Interactive

Slow Feeder™ Dog Toy

will prevent your dog from eating too fast. It will not only make

mealtime more fun and entertaining

, but it may also help prevent your dog from choking, indigestion or bloating.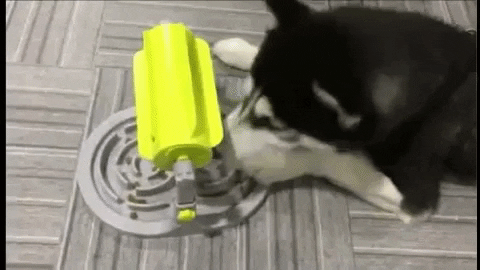 This Interactive Dog Feeder is designed to encourage your dog's foraging instincts. It is made from eco-friendly, high-quality plastic materials that are both durable and non-toxic.
MATERIAL: 🐶Made of non-toxic ABS plastic material. Environmental friendly and sturdy.😸
FUN TRAINING: 🐶A small challenge and big fun for your pet. The food will only spill out from wheel after your pet learn to turn it by paw or nose. Unlike other similar toys, with our unique design the toys will never hit or hurt your pets when playing.😸
PRACTICAL DESIGN: 🐶Adjustable Height makes it suitable for most size pets; non-slip design on bottom ensures the toy won't be pushed or pulled by pets. The Puzzle bowl at bottom will avoid your pet eating too fast or too much.😸
HOW TO USE: 🐶Just fill a bit of your pet's favorite food or snack in the wheel and then choice whether look your pets figure out how to get the foods or teach your pets to turn the wheel and get their rewards.😸
----------------------------
----------------------------
Click "Add To Cart" To Order Now!
Limited Stock - Will Sell Out Fast!